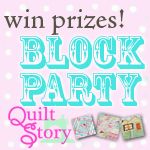 I'm running late...as usual...so here I am posting my submissions for the Block Party mere hours before the deadline! There are three categories (Traditional, Modern and Creative), and rules dictate that you can submit a block to each one. It's up to your discretion to decide which category you think your blocks fall into :)
Here's what I'm entering in each category:
TRADITIONAL
This was one of two blocks I made for my partner's mug rug in the first round of the Mug Rug Swap. I used Jennifer Paganelli's free
DWR pattern
and shrunk it on a copier by 50%.
MODERN
I just finished this one the other day for Samilou in the Quilting Divas Mini Sampler Bee! It's an original pattern inspired by
this
block.
CREATIVE
And this block is the oldest of the bunch! I made it last August for janesfabrics in the 3rd quarter of the 3x6 Bee. It might possibly be my favorite block I've ever made :) The pattern was designed by Aneela Hoey of
comfortstitching
.
If you want to check out all the entries in the contest so far, click
here
!