THIS GIVEAWAY IS CLOSED & WINNERS HAVE BEEN CHOSEN.
For some reason, my excitement over the new pattern in my Etsy shop + the uber giveaway I'm about to announce, has translated into old Jock Jams songs.They've been running through my head all morning. Especially
this
one and
this
one. I can't attempt to explain why my mind works the way it does...seems it's a mystery for the ages...lol.
I put the finishing touches on my Grab 'n' Go Wristlet pattern last night - whoo hoo! I guess I should say
patterns
instead of pattern, because I modified the existing clutch templates to include an option for a coin purse. So it's now a 2-in-1 pattern...gotta love options!
If you so desire,
you can now purchase it from my Etsy
SHOP
.
A big thanks to my pattern-testers
Candice
,
Angela
,
Kristie
,
Karen
and especially
Kelly
- she's the one that suggested I add the smaller coin purse size :)
Onward ho to the giveaway! Behind door #1 are the lovely wristlets pictured above. The coin purse is made with some of my favorite Japanese fabric and measures 7.5" x 5"...
...and the clutch is made with my favorite prints from Aviary 2 and measures 11.5" x 5".
Behind Door #2 is a charm pack from Aneela Hoey's upcoming line Little Apples (ooh! ahh!), courtesy of my friend Brenda at
Pink Castle Fabrics
.
What's behind Door #3 Monty?
Well I'm glad you asked, because I saved the best for last! It's a brand new
car
AccuQuilt GO! Baby. The winner will receive the machine pictured below, plus 3
dies
of their choice (and the corresponding cutting mats).
You can also click on this link to get some free quilt and individual block patterns from AccuQuilt. Coulda used that Double Wedding Ring die about this time last year...except that I would've had to piece it old school instead of the quick and easy paper piecing we're doing now. Everything's a trade-off, ya know?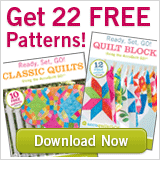 To enter, leave a comment. Simple as that! Oh, and if you're already a loyal follower, go ahead and leave a second comment telling me so. I think it's more than fair to reward my current readers with an extra shot at the prize, don't you? *wink*
If you find my entry rules boring and wanna make things more interesting, you can always leave me a link for a deliciously Southern chocolate pie recipe...my mouth has been watering for a chocolate pie like the ones being paraded around in the movie
The Help
. I LOVE ME SOME PIE nom nom nom...*rubs buddha pie belly* P.S. If you ever find yourself wondering what I might be like in real life, here's a small peek into my soul. I have what you might call "spunk" or "chutzpah"...what Millie does with that pie in the book/movie, is 100% something I would do if faced with a foe as evil as Hilly. I laughed til I hurt during that scene.
I'm also in dire need of a cute travel bag tutorial or pattern, so feel free to shower me with links! I'm looking for something to use as my carry-on for the Sewing Summit in October...I'm getting SO excited...and impatient. Patience is not one of my virtues...just ask my husband ;)
This giveaway will close at midnight next Thursday, August 25, and it IS open to all you lovely International peeps
...yes, even the GO! Baby. I specifically checked to make sure you all would be included on that because I've got your back ;)
GOOD LUCK!!! I'm so nervous! Waiting to find out who's gonna win the big prize is like trying to fall asleep on Christmas Eve *sigh*....patience Kaelin, patience...